Discussion Starter
·
#1
·
I'm dissatisfied with Hyundai's Fix-A-Flat option that's supplied with 2022 Tucson Hybrid vehicles. I knew from a scary recent experience in our previous vehicle that HAD a spare that I had to have a REAL spare tire. I researched many options and finally decided to purchase a full-size spare tire from
modernspare.com
. From the options they offer, I purchased the Complete Kit Without Carrying Case for $389.95 plus $48 flat rate shipping. It was ordered on Dec. 19 and arrived on Jan. 10.
I can now report that this tire DOES fit nicely under the rear cargo cover, even in the lower position
.
First, you remove the foam organizer tray and the Tire Mobility Kit.
The only thing to be a little concerned about are some screws that protrude from the undercarriage into the area where the wheel will sit. More on that later.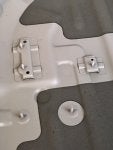 I'm going to visit my local Ace Hardware tomorrow to look for something to go over the screws. I'm thinking maybe some corks that I can drill a hole in to fit over the screw? If I don't find something that will work to my satisfaction, I will explore options. One would be to cut the screws off short and then put something over the shorter stubs (which might have sharp points from being cut). Another option would be to put some small pieces of styrofoam over the screws to cushion the tire from rubbing.
You can then replace the cargo tray into either the upper position (factory default)
or the lower position
. The tray in the lower position sits right on top of the spare and the spare provides support under the tray. That's ideal and gives you an additional couple of inches of height in the cargo area.
With the Complete Kit, you also receive a scissor jack with a ratcheting handle to raise/lower the jack, a extended length tire wrench, sockets to fit all sizes of Hyundai lug nuts, and five replacement lug nuts to use in case the factory installed lug nuts don't fit in the recesses of the spare. AND, you receive an oversize plastic bag in which to put your dirty flat when it comes off so you don't get your cargo area muddy or wet. I think Modern Spare thought of everything.
This is a really slick fix for Hyundai's cheap offering. Not inexpensive, but the piece of mind in having a full-size spare is worth it to me (and especially my wife).